Tiffany
Patterson

Gross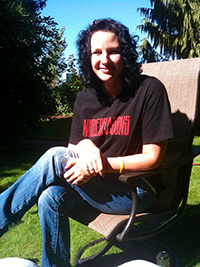 Photofantasm Soundgarden has been an amazing adventure and we are excited to have created this book while collaborating with fans around the world. In the course of making this book our friend Tiffany Patterson-Gross passed away in late 2013. It made this project an even greater labor of love as we also dedicate this book to our friend and fellow Knight. She was a pillar of strength and inspiration to us and everyone she touched.
Tiffany fought a battle against cancer with her otherworldly strength while showing grace, humor, and kindness towards others. Many people including family, friends, and fellow Knights supported her and loved her spirit. She was stunningly beautiful on the outside, but even more so on the inside. Even in her most fragile state, she always thought of others first, before herself. She is a rare and lovely soul.
There is a reason her husband, Jimmy, and friends and family coined the term "Live. Love. Tiff." It symbolizes her spirit and what she stands for. It is a reminder that we all have tremendous inner strength no matter what the circumstance. Chris Cornell sang it best with his song "Rowing," whose lyrics Tiffany cherished and lived by.
We love you, Tiffany, and are honored to have been your friend. On behalf of all the Knights who loved and knew you, we honor your memory. "live... love... tiff"
—Jaye and Mike English