Photofantasm
is a dedication

to Soundgarden . . .
The only book EVER created by the fans for any high-profile band, Photofantasm Soundgarden: Nudedragons to King Animal is dedicated to rock pioneers Soundgarden. It features commentary and recollections from fellow artists, the music press, and other notable contributors.
Photofantasm Soundgarden: Nudedragons to King Animal highlights the Seattle band's rebirth via hundreds of pages' worth of photographs, graphic art, anecdotes, interviews, and reviews. In a truly collaborative effort, fans, artists, musicians, authors, photographers, and other notable personalities all help chronicle Soundgarden's performances across the globe from 2010 to 2013. Photofantasm thoughtfully pairs content from over 300 contributors around the world, spanning more than thirty countries on six continents, providing a meaningful and visually appealing narrative as we follow Soundgarden on this journey.
This book captures moments in time that will never be replicated. The moment when you first heard the band might get back together after thirteen years; when you heard the rumors that Nudedragons would open a show in Seattle and later discovered the band's name was in fact an anagram for Soundgarden; when you first saw them onstage after years of thinking you'd never see your favorite band perform again; when you felt the palpable energy of the band's chemistry reignite while their thunderous beats filled your chest; when you learned that King Animal was the title of their first new album in sixteen years, then had to endure the gut-wrenching anticipation of waiting for what seemed like an eternity for its release. No, these moments in Soundgarden's history can never be replicated, and that's why they've been documented by their fans in Photo - fan - tasm. To quote Everybody Loves Our Town: An Oral History of Grunge author Mark Yarm in his foreword to Photofantasm Soundgarden, the book is "by the fans, for the fans" and captures what promises to be just the beginning of a very long second chapter! Although Photofantasm covers the epic return of Soundgarden from Nudedragons to King Animal it transitions to present day looking forward to the band's future.
Contributors, who in the spirit of this project and mutual passion for Soundgarden, shared their work and gave their time for Photofantasm. Irrespective of location and language we all have one thing in common: a deep appreciation of Soundgarden's music. It inspires us. The individual impact and experience of their music is personal to each contributor, as it is to the millions of fans that didn't have an opportunity to participate in this project. The heart of this book is a section devoted to the loving memory of an extraordinary friend and Soundgarden fan Tiffany Patterson Gross who courageously fought cancer. All net proceeds will go to Canary Foundation, the first and only foundation in the world solely dedicated to the funding of early cancer-detection solutions.
Photofantasm is a thank you to Soundgarden from their fans - the Knights of the Soundtable.
Only 1000 Limited Edition Copies!
All Net Proceeds Go To Charity!
Hard Cover, 8.5 x 11, Smyth Sewn Binding, Quality Collector's Edition
Over 70 Pages Of Artwork Including Soundgarden Concert Posters And Original Artwork
Over 1000 Photographs With Hundreds Of Stories, Reviews, Interviews And More . . .
592 Pages! Tons of Exclusive Content!
Printed And Bound In The U.S.A.
---
Soundgarden, which features members Chris Cornell, Kim Thayil, Matt Cameron, and Ben Shepherd, have released six studio albums, won two Grammy® Awards, and sold millions of records worldwide. They are currently planning another album and working on their own personal projects.
---
Knights of the Soundtable
All Contributors
Notable and

Graphic Artists . . .
Anecdotes / Quotes / Interviews
(In Order Of First Appearance)
Mark Yarm, Author of Everybody Loves Our Town: An Oral History of Grunge
Bruce Pavitt, Sub Pop cofounder and author of Experiencing Nirvana: Grunge in Europe, 1989 and Sub Pop USA
Kevin Martin, Candlebox lead vocalist
Duff McKagan, Musician / Author
Mark Dancey, Graphic Artist
KoRn Jonathan Davis, James "Munky" Shaffer, Brian "Head" Welch, Reginald "Fieldy" Arvizu, Ray Luzier
Mark Pickerel, Musician / member of Truly and founding member of the Screaming Trees
Dave Krusen, Original Pearl Jam drummer
Chad Channing, Before Cars and Bleach-era Nirvana drummer
Robert Roth, Truly songwriter, vocalist, and guitarist
Mickey Leigh, Writer, musician, author of I Slept with Joey Ramone: A Family Memoir
William DuVall, Alice in Chains vocalist and guitarist
Kevin Wood, Malfunkshun lead guitarist
Shandon Sahm, Meat Puppets drummer
Curt Kirkwood, Meat Puppets vocalist, guitarist, and songwriter
Bill Kelliher, Mastodon guitarist
Pepper Keenan, COC and Down vocalist and guitarist
Ryan Crase, Producer, director, manager of Motopony and creator of Reignwolf
Andy Park, Studio X
Greg Prato, Rolling Stone contributor and author of Grunge Is Dead: The Oral History of Seattle Rock Music
Dale Crover, Melvins
Stephen Carpenter, Deftones lead guitarist
Serj Tankian, System of a Down lead vocalist, songwriter, and keyboardist
Josh Graham, Creative director, artist, musician
Glenn Case, Mural artist
Craig Wedren, Composer for film and TV, songwriter, singer, Shudder to Think front man
Peter Cornell, Musician
Kenny Stoff, Director of Photography, "By Crooked Steps" video
Jessica Young, Cinematographer, "By Crooked Steps" video
Myles Kennedy, Alter Bridge / Slash and the Conspirators
Dimitri Coats, OFF! guitarist and Burning Brides front man
Scott Crane, Actor, record producer, founder and former owner of Seattle's Soundhouse Recording Studios

Graphic Artists
Soundgarden Graphic Artists
(In Order Of First Appearance)
MUNK ONE, USA
Josh Graham, USA
Brad Klausen, USA
EMEK, USA
Maxx242, USA
Jeff Soto, USA
Mark5, USA
Gregg Gordon/GIGART, USA
Justin Kamerer of Angryblue, USA
Rhys Cooper, Australia
Justin Hampton, USA
Jermaine Rogers, USA
Zoltron, USA
Ames Bros, USA
Ken Taylor, Australia
Chuck Sperry, USA
Lars P. Krause, Germany
Frank Kozik, USA


Photofantasm Graphic Artists
(In Order Of First Appearance)
J. Becker, USA
Photocoyote
Ruairdhri Wright, Scotland
Special Guest Appearance Photos
(In Order Of First Appearance)
Mike McCready - Pearl Jam
Dave Grohl - Foo Fighters
Pepper Keenan - COC and Down
Duff McKagan - Velvet Revolver, Guns N' Roses
Ozzy Osbourne and Tony Iommi - Black Sabbath

Jimmy Page - Led Zeppelin
Taylor Hawkins - Foo Fighters
Sean Kinney - Alice in Chains
Peter Cornell - PC
Ray Cameron - Matt Cameron's son
Media Contributors
(In Order Of First Appearance)
Travis Hay (Guerrilla Candy)
William Goodman (Spin)
J. Edward Keyes (Rolling Stone)
Lisa Worden (KROQ Music Director)
Jane Stevenson (Toronto Sun)
James Reaney (London Free Press)
Lynn Saxberg (Ottawa Citizen)
John Frazzetta (Tunes News)
Jim Farber (New York Daily News)
Salvatore Bono (Officially A Yuppie)
Sarah Rodman (Boston Globe)
Alexia Kauffman (WELOVEDC)
Joe Vallee (Philly2Philly)
Scott Cronick (Press of Atlantic City)
Joshua Klein (Chicago Tribune)
Mary J. DiMeglio (MTV)
John Tuckness (Examiner.com)

Jim Harrington (Mercury News)
Trina N. Green (The Owl Mag)
Jason Bracelin (Las Vegas Review-Journal)
Lyle Aspinall (Calgary Sun)
Cole MacKinnon (The Snipe)
Nicole Brodeur (The Seattle Times)
Cory Graves (Dallas Observer)
Keith Spera (NOLA.com/The Times-Picayune)
Shane Fenton (SoundStageReview InterMedia)
Tim Cashmere (Noise11.com)
Ivar Muñoz-Rojas (Rolling Stone España)
Esteban De Tollenaere (Festivalblog.be)
Andreas Busche (Berliner Zeitung)
Paolo Bianco (MusicaMetal)
Andy Lye (JukeboxMetal.com)
Heather McDaid (Indulge-Sound.com)

Julian Okines (Velour Magazine)
Marc Hogan (Spin)
Christian Funke (WeWantMedia)
Jamie Carson (ClashMusic.com)
Liz Ramanand (Loudwire)
Jane Van Arsdale (LocalBozo.com)
Greg Prato (Rolling Stone)
Jon Dolan (Rolling Stone)
Adam Harrison (Aesthetic Magazine Toronto)
Ben Wener (Orange County Register)
Don Kaye (Pulse of Radio)
Adam Graham (The Detroit News)
Gene Stout (Special to The Seattle Times)
Artists Den Entertainment (Live from Artists Den)
"Iron" Mike Savoia (KISW 99.9 FM Blog)
Gary Graff (Billboard Magazine)
Jody Macgregor (Faster Louder)

View All

Other Contributors . . .
"The 12-year

break is over

and school is

back in session. . .


Knights of the Soundtable

ride again!"


—Chris Cornell
an incredible visual spectacle of the acceleration of Soundgarden —Loudwire
Books still available!
Photofantasm Soundgarden is now available and shipping worldwide. This first edition run is limited to 1000 copies so please order today before they run out!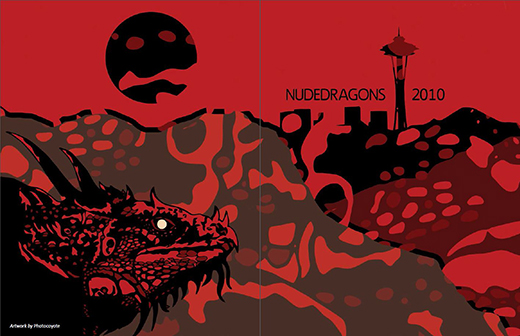 Section 1
Page xvi & xvii Nudedragons 2010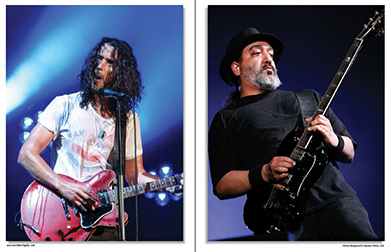 Chapter 3
Page 22 & 23 Lollapalooza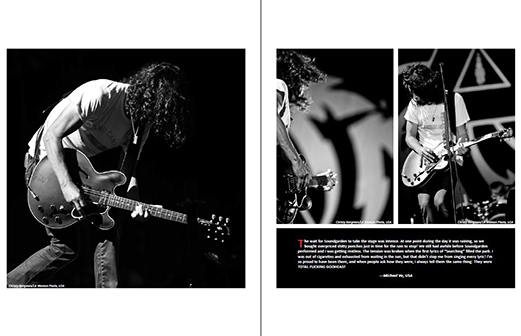 Chapter 3
Page 26 & 27 Lollapalooza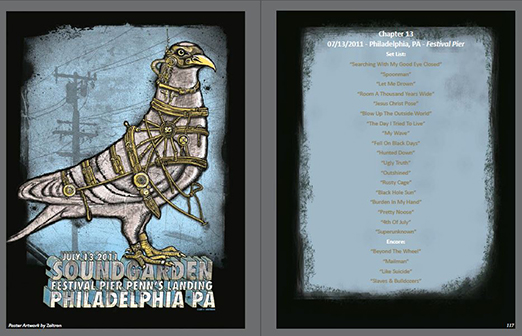 Chapter 13
Page 116 & 117 Philadelphia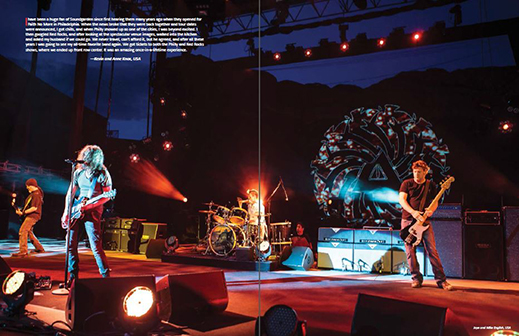 Chapter 16
Page 146 & 147 Red Rocks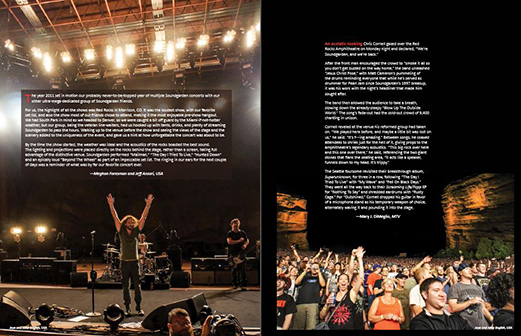 Chapter 16
Page 164 & 165 Red Rocks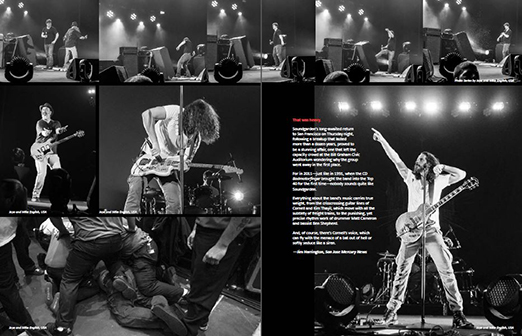 Chapter 18
Page 186 & 187 San Francisco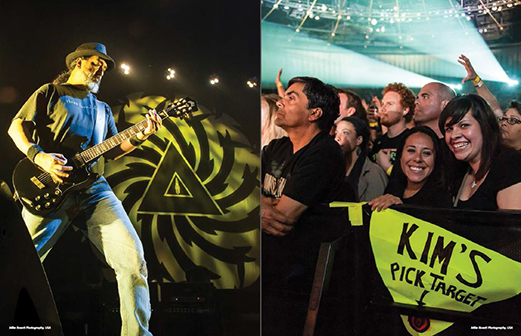 Chapter 19
Page 194 & 195 Los Angeles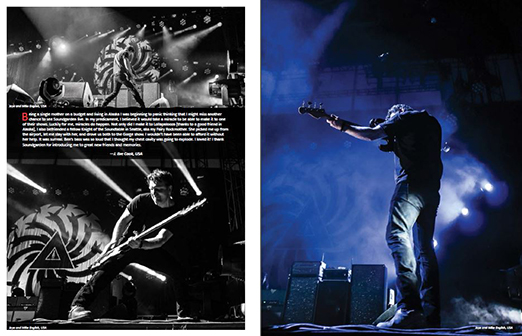 Chapter 23
Page 246 & 247 The Gorge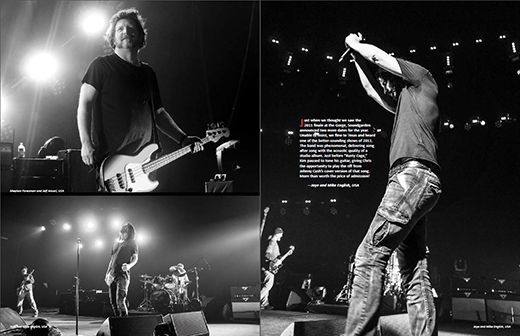 Chapter 24
Page 258 & 259 Texas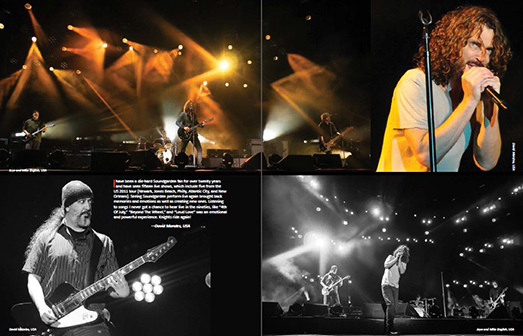 Chapter 25
Page 272 & 273 New Orleans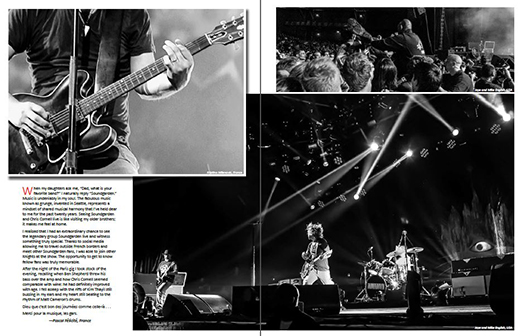 Chapter 31
Page 328 & 329 Paris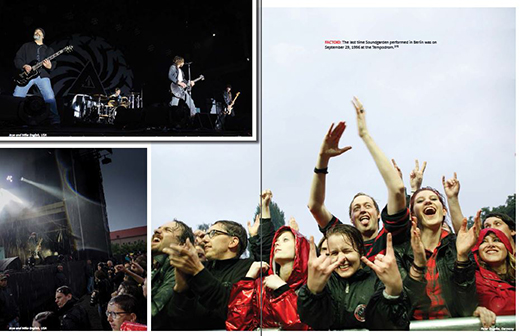 Chapter 32
Page 336 & 337 Berlin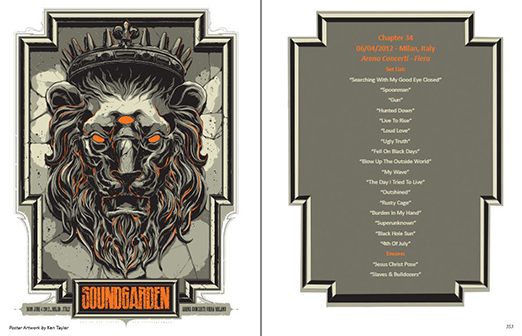 Chapter 34
Page 352 & 353 Milan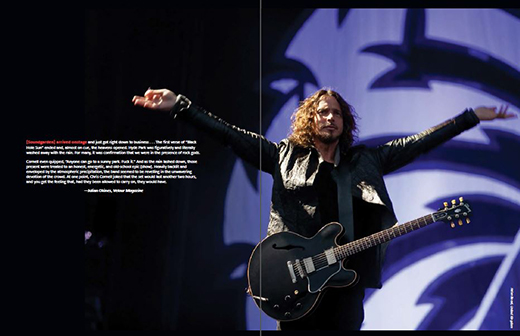 Chapter 37
Page 390 & 391 Hard Rock Calling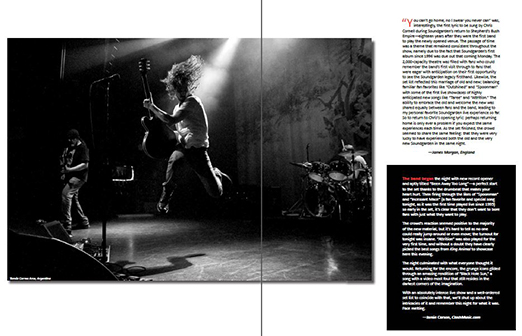 Chapter 38
Page 410 & 411 London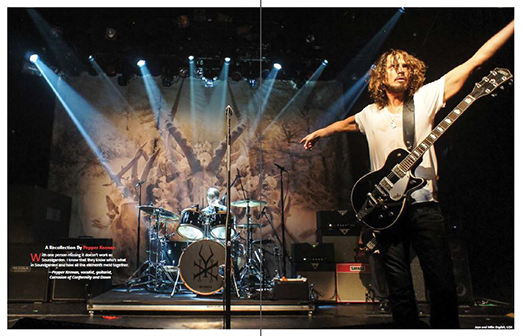 Chapter 38
Page 432 & 433 New York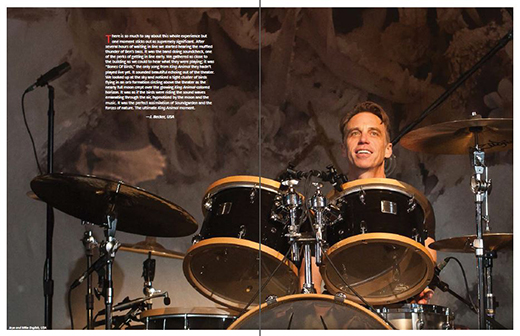 Chapter 38
Page 472 & 473 Hollywood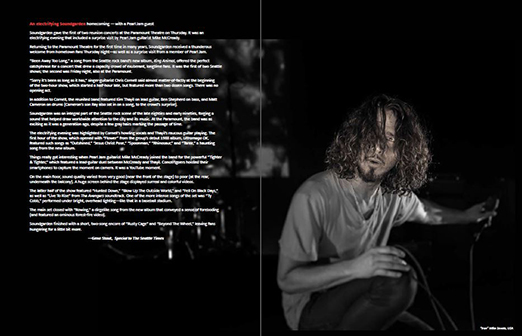 Chapter 39
Page 528 & 529 Seattle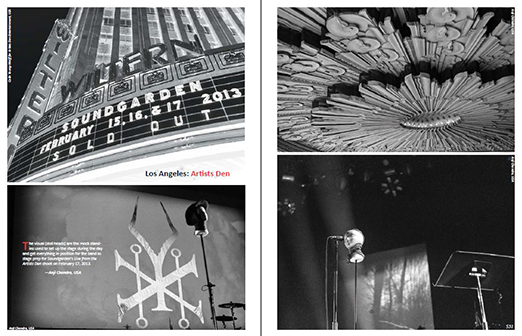 Chapter 39
Page 530 & 531 Los Angeles
Photofantasm
Soundgarden
Nudedragons

to

King Animal
Authors Jaye and Mike English
Cover Art Jaye and Mike English
Language English
Genre Arts and Photography / Rock
Media Type Hard Cover
Publisher Spoondog Entertainment Group LLC
Publication Date August 10th 2015
Pages 592
ISBN 978-0-988530-01-0
LCCN 2015904721
$99.95 Order Now!
The Charity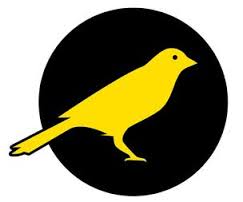 Canary Foundation
First, we want to thank Chris and Vicky Cornell, their team and family for hosting a special VIP evening in Seattle at the 2013 Soundgarden show for our friend Tiffany Patterson-Gross. We collectively agreed to give a private donation to the Chris and Vicky Cornell Foundation in honor of their generosity and work they are doing with children in need.
During the course of creating this book we evaluated several reputable charities who we felt would have been a great fit for worthy causes. The primary factors that were critical to us were how the funds were directly used (minimal overhead less than 5%), a foundation focused on detection / prevention of cancer with a solid reputation, four star ranking and 501(c) (3) credentials. We also wanted to feel comfortable with who was running the organization and if we were familiar with them. A foundation focused on cancer detection / prevention is the primary focus for us for countless reasons. Not only in honor of our friend Tiffany, but for our immediate family directly affected by the disease, and for all our family, friends and fellow Knights fighting their own battles with cancer. We know there are many great organizations fighting the war against cancer. However, we decided on a foundation focused on early cancer detection and research, which in our opinion, is the best way to beat the disease until there is a cure.
We selected Canary Foundation, the first and only foundation in the world solely dedicated to the funding of early cancer-detection solutions, as the primary benefactor for the net proceeds of Photofantasm Soundgarden: Nudedragons to King Animal. More information on Canary Foundation
When the entire inventory (1,000 books) is sold-out we will announce how much was donated in total. In order to maximize the most for charity we opted to sell the limited edition book exclusively online via photofantasm.com to help minimize 3rd party fees. We want to thank everyone who purchases Photofantasm and helps donate to this cause!
View Charity Website
Please send us your review!
News
High Voltage Magazine, June 5, 2017: Carrying On The Memory of Chris Cornell With Photofantasm
Alternative Nation, June 3, 2017: Why Chris Cornell Will Always Live On Through His Fans
Rolling Stone, November 18, 2015: Essential Summer Reads
Rolling Stone, November 5, 2015: For The Love Of Soundgarden
Best Classic Bands, November 1, 2015: Fan-Created Soundgarden Book Available Now
Look To The Stars, October 28, 2015: Soundgarden's Fan Created Book Raises Money For Charity
Photofantasm, October 27, 2015: Soundgarden's Fan Created Book Photofantasm is Receiving Rave Reviews -- Net Proceeds Going To Cancer Foundation
LocalBozo, September 9, 2015: 'Photofantasm,' A Must Own For Any Soundgarden Fan
KISW-99.9, September 8, 2015: Win a copy of (Soundgarden) Photofantasm: Nudedragons to King Animal
High Voltage Magazine, September 8, 2015: Photofantasm Soundgarden: Nudedragons To King Animal By Jaye & Mike English
World Famous KROQ 106.7, September 2, 2015: 'Photofantasm Soundgarden' Fan-Created Book Highlights Band's Return In Photos
Loudwire, August 31, 2015: Fans Document Soundgarden's Return in New Book 'Photofantasm'
artwhacked, August 31, 2015: Magic Mirror: Soundgarden's Photofantasm
Artist Den, August 26, 2015: Soundgarden Photofantasm Giveaway
Alternative Nation, August 17, 2015: Creators Of 'Photofantasm' Book Talk About ... Soundgarden!
Photofantasm, August 6, 2015: Photofantasm is shipping today!
Photofantasm, June 18, 2015: Current Updates
High Voltage Magazine, May 27, 2015: By Fans, For Fans: Photofantasm Soundgarden
KSHE-95, May 20, 2015: New fan-compiled Soundgarden book available now
The Laser 92.7, May 20, 2015: New Soundgarden Book Raises Money For Charity
Metal Hammer, May 19, 2015: Soundgarden Photobook Set For Release
Daily Offbeat, May 19, 2015: New Book Chronicles Soungarden's Rebirth
Canary Foundation, May 18, 2015: Photofantasm Soundgarden + Canary Foundation
KISW-99.9, May 18, 2015: Photofantasm Soundgarden Photobook
BlabberMouth.net, May 18, 2015: 'Photofantasm Soundgarden' First-Ever Fan-Based Compilation Photobook Now Available
Photofantasm, May 18, 2015: Press Release
Top 40-Charts, September 8, 2012: Photofantasm Documents The Latest Chapter In Soundgarden History
Blabbermouth.net, August 8, 2012: Unofficial SOUNDGARDEN Fan Photo Book In The Works
Audio Ink Radio, July 29, 2012: Soundgarden photos will get featured in a new fan-based photo journal